Welcome to the 9th Fund Strategies Forum in Athens, Greece.
The Forum brings together high caliber speakers to discuss about many interesting issues concerning the latest fund strategies as well as the current situation in the Greek market with any direct or indirect impact on the current political conditions. The key themes for investors moving into 2017 are related to: the political risk around the world and the new dynamics after the Brexit and U.S.A. elections, US equities and investment opportunities, high yield investment, how the global growth and inflation will move, what will happen after the Fed raises rates, and what are the challenges and dynamics for the Greek economy in the new year.
Panel Ι: "Macro Investment Outlook"
Executive Director, Senior Sales Executive CEE, J.P. Morgan Asset Management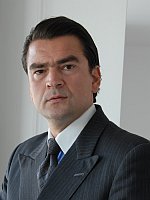 Group Chief Economist, Deputy General Manager, Eurobank Ergasias S.A.
Managing Director Eurocorp Investment Services
Coordinator
Panel I will take place in English
Panel IΙ: "Fund Strategies"
Panel II will take place in Greek